We almost always use our reusable totes; we're getting at using less disposable items in our kitchens and have upped our preserving game to reduce food waste. Yet, when it comes to hosting a gathering, we find it's hard to hold on to those sustainable habits. Each element of a zero-waste party needs to be effectively planned. This means careful strategy and a lot of organization. Start with the menu.
Always plan out the menu and make a shopping list. Take an inventory of the food in your house; what can you make with what you already have? What do you need to buy? Make a grocery list before going to the store. Think of seasonal dishes; they'll be easy to source locally and are often guest favorites. After thinking locally, try to focus on foods without excess packaging, things you can buy in bulk and dishes that can be frozen if there are leftovers.
"Prepare whole foods like a head-on smoked or roasted fish, grilled beets, chicken, and cuts of beef –– effectively any foods that do not require packaging or excessive waste to prepare, present, and eat," says Baron Christopher Hanson, a restaurant and business strategy consultant, and frequent dinner host. "Once enjoyed, they are gone."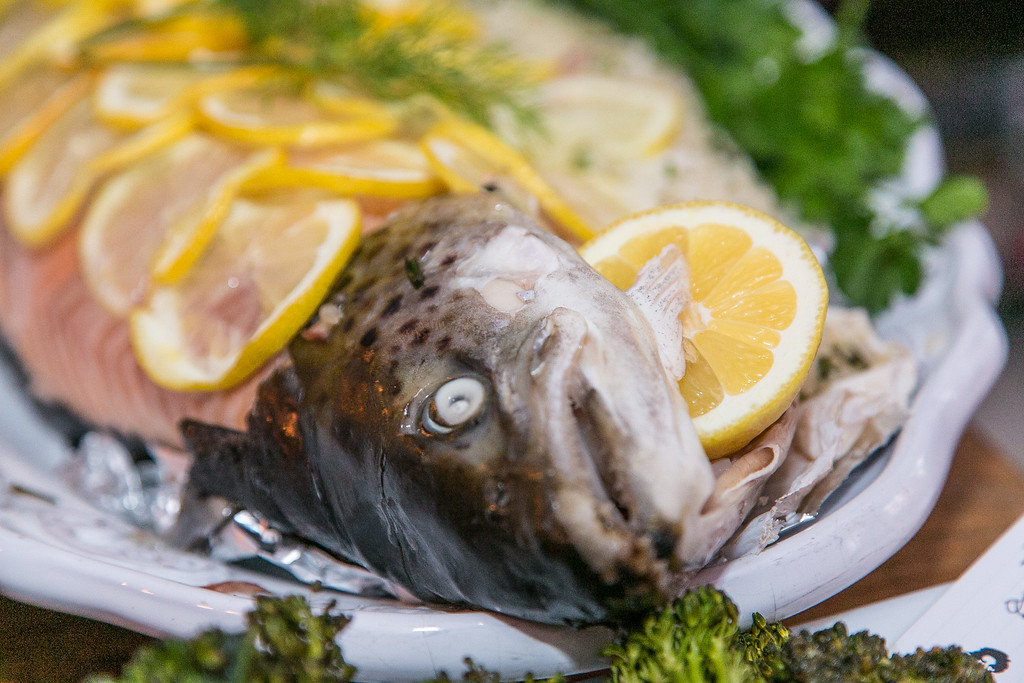 Roasting whole foods and vegetables is a fun and easy way to feed a small group of people really well. Know your food carbon footprint: after considering the waste component of your food, consider the carbon footprint of your foods. The UN's Intergovernmental Panel on Climate Change (IPCC) has reported that if more people switched to a plant-based diet, it could reduce greenhouse gases. Now, we're not saying become a vegetarian dinner host unless that's what you want. But, by making vegetables the star of the dishes, you can reduce your overall carbon footprint, and plant-based dishes are often easier to compost.
While You're Cooking: Try to say no to disposable kitchenware such as aluminum foil. If you have to use one-time-use items, opt for compostable ones such as parchment paper. And if you have items that need to be covered or refrigerated, use cloth, beeswax or Tupperware instead of plastic wrap.
Consider the Drinks: Although the food is, of course, the essential part of any dinner party, when it comes to waste, beverages also play a critical role. Shop at local breweries and wineries, which may have developed their own reusable bottling plans. Choose beverages that come in recyclable containers.
On the Table: Use your regular place settings, not the throwaway stuff. "When I entertain, I use my everyday dishes, my everyday silverware, cloth napkins and my middle-of-the-road stemware," says Stephanie Seferian, host of The Sustainable Minimalists podcast. "The dishes and silverware are dishwasher-safe, cloth napkins are the sustainable choice, and the stemware is elegant enough that it doesn't feel as though I am cutting corners but not too nice that I worry about it breaking."
Don't Forget the Decor: It's only natural you want to decorate your table but try to do so with a sustainable mindset. "If you choose to adorn your home with cut blooms, buy ones grown locally and in season," says Seferian. "Overflow your vases with foliage from your yard or around your neighborhood; this practice is not only eco-friendly but also frugal."
Clean-Up: Make it easy for guests to sort their trash throughout the night. Have clearly marked bins for compostable food scraps, non-compostable food scraps such as meats and dairy, recycling, and waste. "Have an elegant compost bucket or small waste bin just visible enough for everyone to dispose of all their vegetable-based peels, skins, scraps, and bits," says Hanson. "If you have a Ninja blender handy, these scraps can be pulverized along with tap water and added to your outdoor compost, garden, or lawn."
Once the dinner party is over, encourage everyone to take home any leftovers along with your table decorations. With a bit of planning and some practice, you'll be able to host dinner parties with little to no waste. Cheers!